Lennox Learning Solutions | Virtual BuildATech
Need to train a new technician, but can't spare them for the instructor-led course?
Train your tech, with no waiting. You know that training is essential to employee performance. And we get that sometimes, your operational tempo just doesn't allow for travel time and Instructor-led courses. That's why we created Virtual BuildATech®. This program is modeled after our traditional Instructor-led BuildATech® program. Our unique online course gives your new hire the chance to learn on the job while completing virtual training through the proven curriculum of the highly successful four-week BuildATech® program.
Experience the BuildATech® Curriculum at your pace
The distinctive Virtual BuildATech® program includes unique features, such as our exclusive virtual training. Working at their own pace, students with an interest in HVAC prepare for the NATE exam, with the guidance of their manager and the LLS team. Get your new hire trained through Virtual BuildATech®. It's an investment in the future of your employees, and the future of your business.
Virtual BuildATech®
Course Highlights
Self-Paced
No matter the season, the self-paced nature of Virtual BuildATech® means you don't ever have to sacrifice your technician's productivity for training time.
On-Demand
With 24/7 access and a self-paced schedule, Virtual BuildATech® can be completed in as little as 4 weeks.*
Interactive Learning
The course features an exclusive, three-dimensional HVAC Troubleshooting simulation, allowing student to walk through a service call from the comfort of their own computer.
Exclusive Materials
Our unique training materials feature module topics covering HVAC fundamentals, electrical, cooling, heating, technician communications and NATE preparation.
Certifications & Comprehension
Each segment concludes with a proctored exam, requiring a successful passing score in order to continue. Upon completion, students earn ICE and EPA certificates, and test for the NATE exam.
Program Price:
$2,000
Premier dealers:
$1,600 (20% savings)
*Average completion time is between 3 to 6 months.
**Pricing subject to change.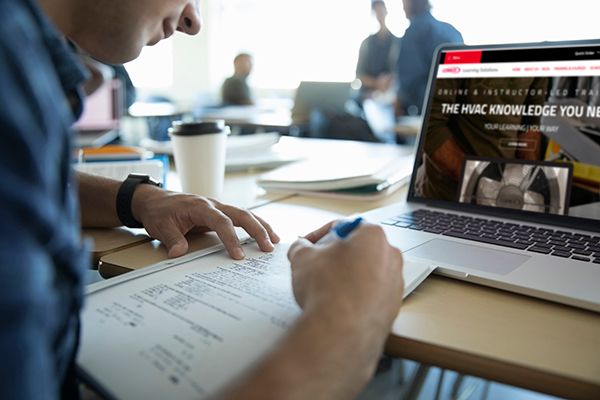 Testimonials
"The courses allowed me to understand the basic principles of HVAC. The combination of field experience and the courses made me a complete technician."
Brian R. - Virtual BuildATech graduate
"I went to proctor two graduates for the NATE exam. The candidates had no formal training prior to attending Virtual BuildATech. They passed NATE. The program prepared them for the real world. The owner felt good about his investment."
Scott P. - Field Technical Consultant