Lennox iComfort E30 Universal Smart Programmable Thermostat, 7" HD Color Display
Lennox iComfort E30 Universal Smart Programmable Thermostat, 7" HD Color Display
Cat # : 20A65 |Model/Part # : E30

The iComfort® E30 Smart Wi-Fi thermostat is applicable to most noncommunicating HVAC systems (up to 3 stages of heating and 2 stages of cooling).
Includes: Lennox iComfort E30 High Definition Display 3.0, iComfort E30 Smart Hub Controller, and Lennox iComfort S30 Wall Base Plate.
A simple easy-to-use touchscreen allows complete system configuration. Scheduled maintenance alerts, system warnings and troubleshooting are also displayed on the thermostat screen
Up to four separate schedules are available plus Schedule IQ™
One-Touch Away Mode - A quick and easy way to set the cooling and heating setpoints while away
Smart Away™ - Schedule IQ™ uses geo-fencing technology to determine when the homeowner is within a predetermined distance from the home to operate the system when leaving, away and arriving
Weather-On-Demand - Live up-to-date weather data and seven-day forecasts.
Easy to read 7 in. high definition color display (measured diagonally)
Installer setup screens allow quick and simple system configuration without a manual
Installer can also run simple tests for easy maintenance and troubleshooting
Dealer Dashboard features online real-time monitoring of systems
Serial communications bus (RSBus), with less wiring than a conventional heating/cooling system, allows system communication
Uses 4-wire standard thermostat wiring
Conventional thermostat wiring connects the Smart Hub Controller to the indoor/outdoor equipment
See System Components on page 3 for additional details
High Definition Color Display with Subbase, Smart Hub Controller, wallplate (for retrofit installations) furnished for easy installation
Additional indoor air quality comfort products (PureAir™ Air Purification System, Healthy Climate® Humidifiers, Humiditrol® Enhanced Dehumidification Accessory, Healthy Climate® Energy/Heat Recovery Ventilators, Healthy Climate® Germicidal Lights) can be added to the system for a complete total-comfort system
| | |
| --- | --- |
| Brand | Lennox |
| Catalog Number | 20A65 |
| Model/Part Number | E30 |
| Minimum Order Quantity | 0.0 |
| Base Unit of Measure | Unit(S) |
Product Depth
1 Inch
Product Height
7-1/2 Inch
Product Width
5 Inch
Gross Weight
4.5 LB
Family
iComfort
Changeover
Auto
Intelligent Recovery
Yes
New Catalog #'s
20A65 was replaced by
Online HVAC Training for the Lennox iComfort E30 Smart Thermostat
Online courses built to provide Comfort Advisors, Dealers and Technicians with product overview on technical benefits, specifications, and features for the iComfort S30 system.
HVAC training built for the HVAC Professional!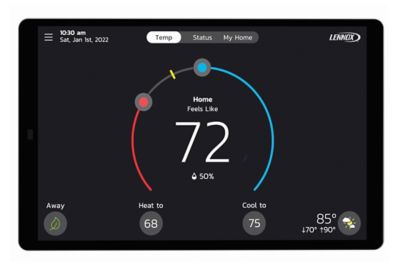 Sales Training
This course is designed to provide Comfort Advisors and Dealers with a product overview of specifications, features and benefits of using the iComfort E30 system.

Sales Webinar
The iComfort E30 sales training webinar will teach you why you should be offering our newest smart thermostat in our iComfort line on every sales call to your customers.

Technical Training Guide
In this series of courses we will examine the installation process and introduce various commissioning procedures. We will cover all functions and controls to give a comprehensive understanding of the new thermostat system. An entirely new feature will also be introduced, Amazon Alexa compatibility.

Technical Webinar
This webinar will teach you how to use the iComfort E30 smart thermostat. We will review installation and service for dealers, benefits the thermostat can provide, reports the thermostat can generate to assist with installation and performance, and how it works with our iComfort dashboard on LennoxPROs.com

Installation Process Video

Customer Walk Through