Do the smart thing this winter season with Lennox' industry-leading line of connected thermostats.
By Valirie Morgan
The weather outside may be brisk, but thanks to our top-notch lineup of thermostats, we're turning up the heat! Long gone are the days of mercury thermometers and hand-cranked dials—Lennox' smart thermostats continue to lead the industry with innovative features that provide unbeatable comfort in your customers' homes.
The precise, energy-saving control of the iComfort® S30, iComfort Wi-Fi®, and iComfort Wi-Fi® Flex thermostats is just the start of what they have to offer your customers, so here's a closer look at some of the hottest products on the Lennox market this chilly season.
iComfort® S30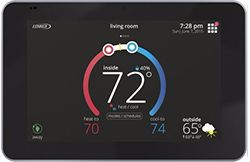 Our top-of-the-line model, the iComfort® S30 is the smart thermostat that expertly adheres to your customers' busy schedules. Innovative features like Smart Away™ mode and Schedule IQ™ technology will adapt to their routines and change the temperature settings when a person leaves or arrives in the home, while advanced alerts and performance reports use smart diagnostics to monitor all system components.
"In addition to powerful features for homeowners, the iComfort® S30 has important features designed specifically with dealers and technicians in mind," says John Whinery, Vice President of Product Management for Residential HVAC at Lennox.
For example, the Dealer Commissioning App allows techs to adjust the thermostat's settings from anywhere in the house—no more walking back and forth between the thermostat and the system equipment during installation. Plus, remote diagnostic capabilities keep you connected to your customers whenever problems arise, giving you the opportunity to solve issues without having to make a house call.
iComfort Wi-Fi®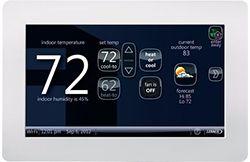 Technology meets accessibility with the iComfort Wi-Fi® smart thermostat, which features an intuitive touchscreen interface that puts comfort control right at your customers' fingertips. Like the iComfort® S30, this smart thermostat can be controlled from anywhere—smartphones and other web-enabled devices can be used to change settings and program the thermostat from afar.
Compatible with premium Lennox equipment, the iComfort Wi-Fi® offers complete control over the temperature and humidity levels in a home. The Precise Comfort Plus feature holds the indoor temperature within 0.5 degrees or better, so there's no question that the temperature your customer sees on the screen is the same as what they're feeling in their home. As a dealer or technician, you have access to advanced alerts that notify you when maintenance is needed, and smart diagnostics allow you to determine the cause of problems quickly—which means you get the job done faster, and your customer gets back to feeling comfortable.
iComfort Wi-Fi® Flex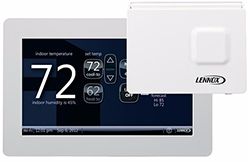 The iComfort Wi-Fi® Flex is designed to work with Lennox communicating equipment and most other brands of heating and cooling equipment. With virtually all the same energy-saving, comfort, convenience, and performance features as the iComfort Wi-Fi®, this model makes it possible to have complete control over standard HVAC equipment.
"When it comes to smart thermostats, the iComfort Wi-Fi® Flex is a great option for customers who aren't ready to replace their existing systems but still want the convenience and control of a smart thermostat," says Whinery.
Selling Lennox-brand smart thermostats sets the foundation for customer-dealer relationships that last. Anytime service is needed on a homeowner's device, the thermostat will connect them directly to their Lennox dealer. Smart thermostats, smarter partnerships—it's a win-win.
Give your customers the most innovative home comfort.
---
Still Hungry?