3.2 Software Update Released for Award-Winning S30 iComfort® Thermostat
Latest smart thermostat software enhancement boosts dehumidification capabilities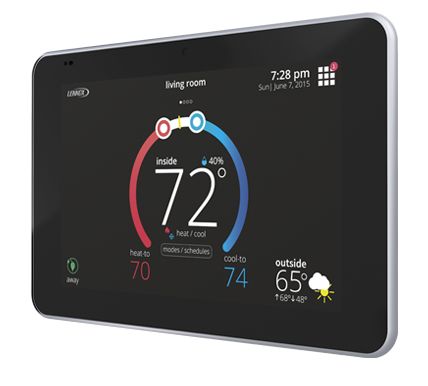 Lennox Industries announced today the release of a highly anticipated software update for its award-winning iComfort® S30 smart thermostat. The 3.2 software enhancement boosts dehumidification capabilities of variable-capacity air conditioners and heat pumps (Models XC25/XP25 & XC20/XP20), as well as two-stage air conditioners and heat pumps (Models XC/XP21 & XC/XP16).
Leading the HVAC industry in precision comfort–control technology, the iComfort® S30 combines unmatched energy efficiency for homeowners with ease of installation and service for dealers. With the new dehumidification functionality, the thermostat triggers the variable capacity compressor to overcool to meet the desired dehumidification set point. Further improving dehumidification, the optional discharge air sensor controls the compressor capacity to optimize the supply air temperature and moisture removal. Advanced monitoring features give homeowners a whole new level of control, including:
Choice of three dehumidification options on the humidity control screen: Normal, Max and Climate IQ (auto) ̶ optimizing the supply air temperature to achieve the desired level of dehumidification.
Added "overcooling slider bar" to give homeowners the power to adjust the desired amount of overcooling from 0°F to 4°F during the Max or Climate IQ (auto) dehumidification modes.
Software update distribution begins September 13th and will continue through early October. Note: homeowner systems must be connected to the Internet, and the "automatic updates" option MUST be enabled. If the connection is temporarily disabled for any reason, updates will be available for retrieval through the "check for updates" button.
App updates for Android and iOS devices will be available in the Google Play and Apple App stores, as well as LennoxPROs.com. New versions will be backward and forward compatible.
The last software update (3.1) in June 2016, launched the weather-themed video screen savers and enhanced mobile app speed, Smart Away capabilities and the user interface.
---
Still Hungry?