Managing Emergency Hours This Holiday
Managing Emergency Hours this Holiday Season
No one wants their holidays interrupted by urgent calls for HVAC service, but in a service industry, they're bound to happen. Here are some ways to deal with them, without going crazy.
You know it's coming. It's almost here. Like clockwork every year…the lone call that rings in the early morning or late evening on Christmas Eve. Sometimes work is busy, sometimes not, but there's at least one call: that urgent call for help from a homeowner who has no heat. Perhaps they have a newborn, or a sick family member, and the house temperature is dropping fast. Meanwhile, the weather is cold and the roads are treacherous.
How do you maintain your holiday spirit while providing excellent customer service? We caught up with Mike Moore, Director of Training at Lennox Learning Solutions, for his take on how to get employees onboard to deal with the inconveniences everyone knows will happen over the holidays.
Q: What's the trick to getting employees eager to work extra hours during the holidays?
A: Extra pay is always a good incentive, especially during the holidays. But the bigger incentive appeals to the heart. Emergency hours are our opportunity to serve our fellow man. Yes, they're inconvenient, but really, they're a way to help others. Looking at it that way makes all the difference.
Q: How can you prep your team for the long hours they'll inevitably face during the holidays?
A: First, you have to make sure your whole team understands the importance of customer service in maintaining the business's reputation. To succeed as a business, we have to take care of our customers after-hours needs—24/7.
Q: What strategies can business owners use to help employees work together to meet those emergency situations?
A: Devise a fair, democratic system where every employee takes a piece of the burden. Let them work it out as a team. It's easier than assigning the work schedule yourself. Let everybody support what they help come up with. This way the team can work to support each other.
The holiday season is about giving, and nothing can be more rewarding than restoring heat to a family's home, or helping someone in need. You're not only helping your team and business, you're serving people who urgently require your special skills.
Give your customers the gift of Ultimate Comfort.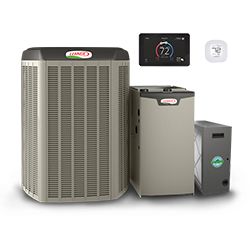 Use these digital tools to help you get through emergency calls quickly and efficiently.
One of the best ways to make sure you're ready for emergency calls is to train, train, train. Use this 23-minute video, "Checking Two-Stage Heating," to make sure everyone on your team is ready to check and troubleshoot two-stage natural gas systems.
---
Still Hungry?