Submit Your Quick Order in 5 Minutes or Less
LennoxPros.com features a handy, no-fuss tool for submitting your product orders.
Step 1: Click on the "Quick Order" tab near the top of the page. The tab will show you a drop-down menu to input Catalog Numbers and product Quantity.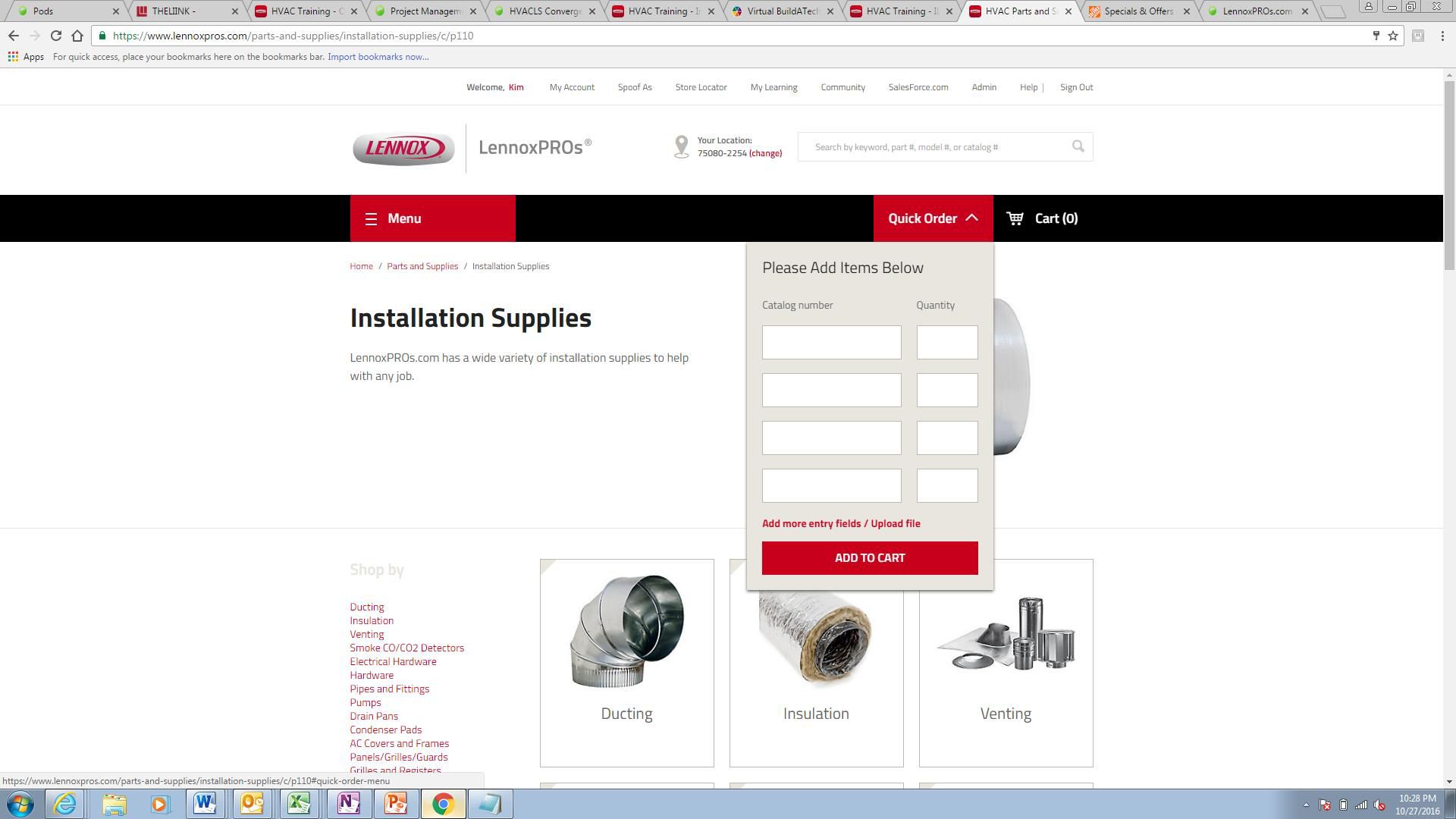 Step 2: Click the "Add more entry fields/Upload file" link. Alternatively, you can also navigate to https://www.lennoxpros.com/quick-order. Either option brings up this expanded "Quick Order" page.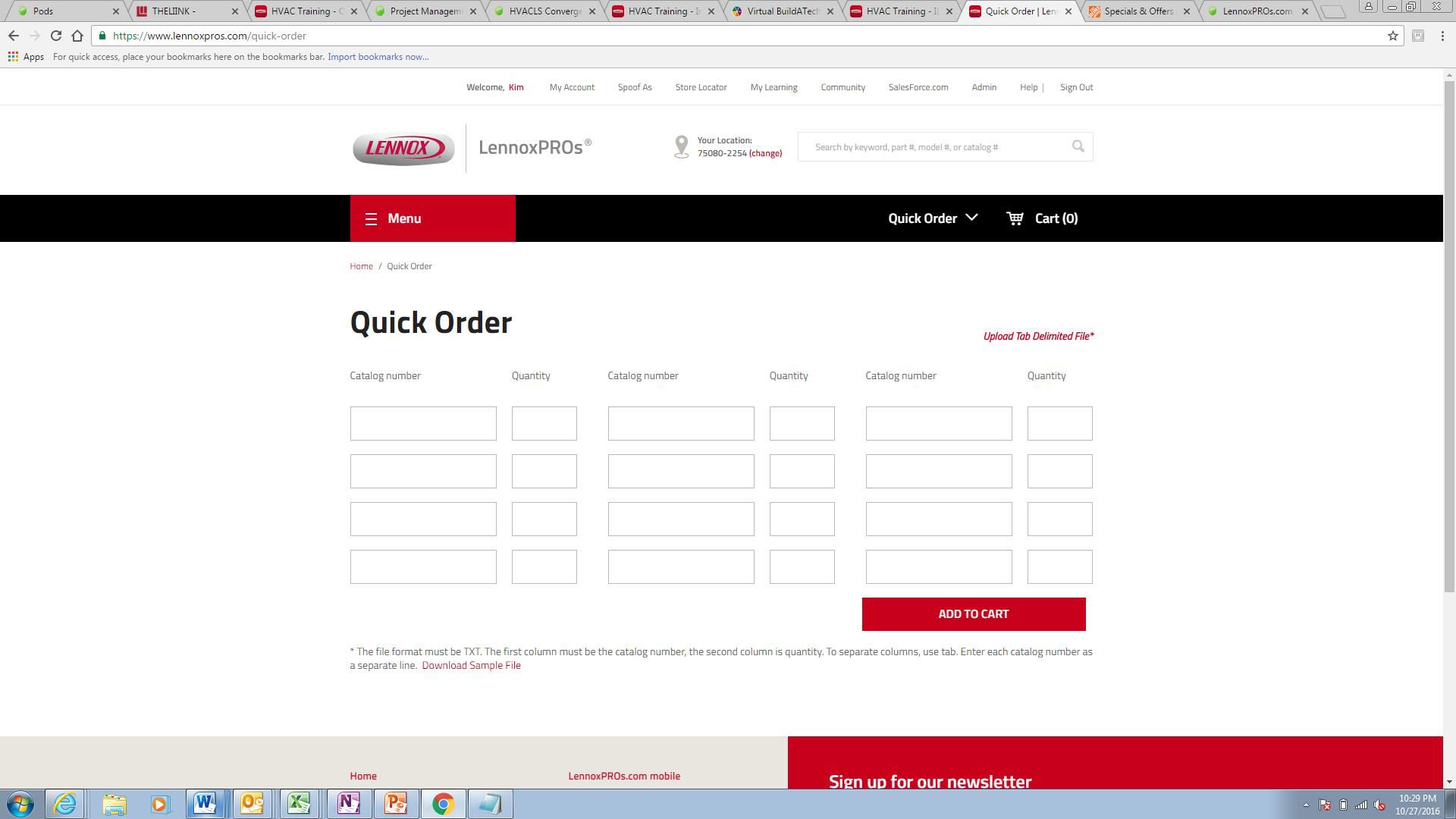 Step 3: Click the "Upload Tab Delimited File" link to upload your pre-made order sheet (must be in TXT format).
Pro tip: If you're not already doing so, keeping a spreadsheet with the catalog numbers and product quantities you need is the fastest way to use Quick Order. If preferred, you can enter up to 12 Catalog numbers and quantities right on the "Quick Order" sheet, and click the "Add to Cart" button.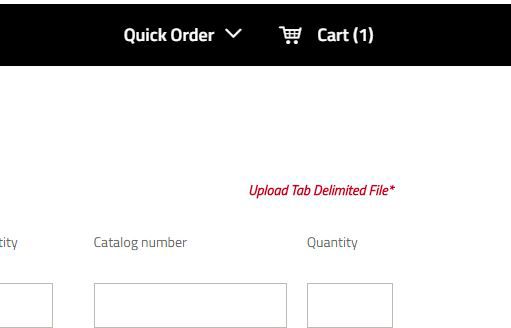 Step 4: Click the red "Cart" tab near the top of the page. To see everything in your cart, click the "View All Items" link. If you're ready to check out, click the "Checkout Now" button.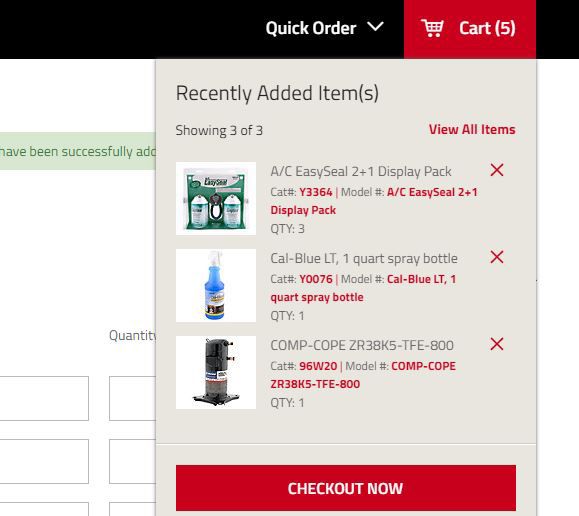 Step 5: Add a PO Number for your order. This can be any number or text that you choose. You can assign a separate PO number for each line item. If a line item does not have an individual PO Number, the item will go under the order-level PO.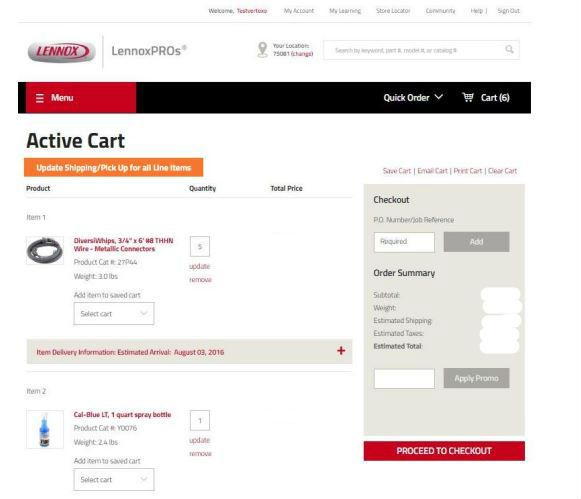 Step 6: Select a shipping method. LennoxPros.com offers six shipping options: Standard Shipping, Next Day Air, Second Day Air, Weekend Delivery, Next Day 8 a.m. and Will Call. You can select different shipping methods for each line item, or if no line item method is selected, the item defaults to the order-level shipping method.
Pro tip: Based on your location, LennoxPros.com automatically checks availability in applicable warehouses. If you can't find the availability you need, try changing your shipping method, to see different availability options.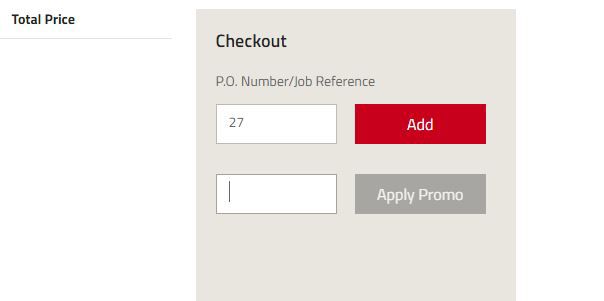 Step 7: If you have a promo code, enter it in the field below the "PO Number/Job Reference" field, and click the "Apply Promo" button.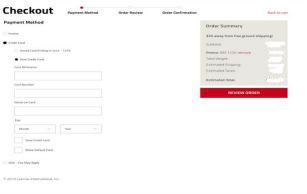 Step 8: Click the "Proceed to Checkout" button, then review your order and select your payment method. If you don't have a credit account with Lennox, just place the order using your credit card. You can have the order shipped to your location, or pick it up in-store.
Pro tip: To make Quick Order even faster, you can save your credit card information to your LennoxPros.com account.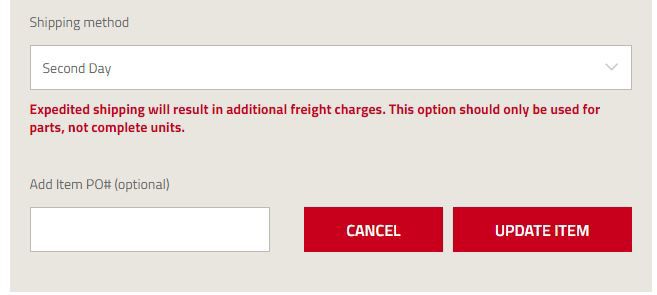 Step 9: Review your order and payment information, and click the "Submit" button.
---
Still Hungry?