The Coolest Tools for 2017
The Coolest Tools for 2017
Invest in this must-have equipment to help you start the year off right.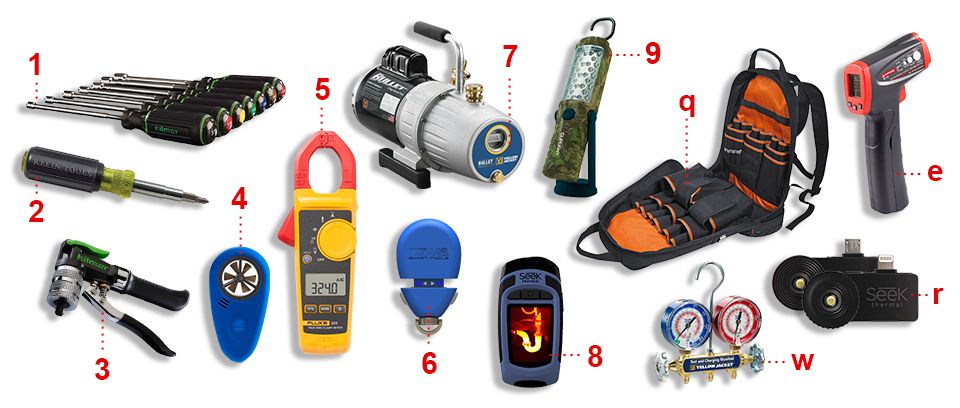 Take on every job with confidence this year by filling your tool kit with this assortment of handy options available at Lennox PartsPlus® and LennoxPROs.com.
1 Hilmor 6-inch Shaft Magnetic Nut Driver Set (Y7796)
Set of seven drivers offers secure hold, quick color-coded identification, slip-resistant grip, and big-bolt capabilities.
2 Klein 11-in-1 Screwdriver/Nut Driver (Y3362)
This Klein 11-in-1 tool includes a Schrader® Valve Core Bit, as well as a unique style bit for installation/removal of common TR-4 Schrader® valves and an aggressive thread extractor tip for backing out broken cores.
3 Hilmor Compact Swage Tool Kit (Y7822)
Creates high-quality swages quickly with five expander heads and enables easy and precise tubing expansion without splitting.
4 AAB Anemometer (Y6994)
Connects to smartphones to conveniently convert air speed into air volume, record the data, and email professional reports. Free app included for iPhones, iPads, and most Android devices.
5 Fluke 902 FC Clamp Meter (Y7825)
Enables you to create reports and collaborate with peers from the work site; captures measurements with Fluke Connect through Bluetooth; measures temperature, DC current, and capacitance; captures flue gas temperatures; and conducts flame rod testing on furnaces.
6 AAB TS-100 TempSmart Temperature and Humidity Data Logger Kit (Y7901)
Data logger kit with six meters; measures and calculates dry-bulb, wet-bulb, and feels-like temperatures as well as relative humidity; stores more than 60 days of data and exports professional history reports
7 Yellow Jacket Bullet Vacuum Pump (Y6719)
5 CFM Bullet Vacuum Pump, 115 V/60 Hz Single Phase, features wide mouthed oil reservoir port for clean, easy filling.
8 SEEK Reveal Standalone Thermal Imager (Y7775)
Powerful thermal camera and 300 lumen LED light works night and day; includes 206-by-156 thermal sensor, 36-degree field of view, 500-foot distance, and minus 40 degrees Fahrenheit to 626 degrees Fahrenheit detection range.
9 Clip Light (Y8028)
LED technology delivers 160 lumens; includes 28 LED face and 5 LED top flashlight, 360-degree swivel hook, magnetic base, and three AA batteries.
Q Klein Tradesman Pro Organizer Backpack (Y7904)
Features 39 pockets including a hard, molded front pocket to protect safety glasses, plus an orange interior for easy visibility.
W Yellow Jacket Manifold (Y6723)
Series 41 manifold contains 60-inch PLUS II™ standard fittings, PSI, R22/404A/410A, and degrees Fahrenheit (clamshell).
E Amprobe Infrared Thermometer (Y7845)
The FL IR-710 10:1 IR Thermometer uses a laser pointer to measure temperature quickly and accurately; updates twice per second.
R SEEK Compact Camera and Thermal Imager for iPhone and Android (Y7774)/(Y7773)
Connects to smartphones to detect infrared light and creates a visible image on phone screen.
120/240V Single Phase Surge Protector (Y6996)
Protects against repeated surges and is backed by a 10-year warranty.
Klein All-Purpose Plier with Crimper (Y7906)
Strips 10-18 AWG Solid and 12-20 AWG Stranded wire and 6-32 and 8-32 screw shearing; crimps non-insulated connectors, lugs, and terminals.
Be the contractor with the best tools.
---
Still Hungry?