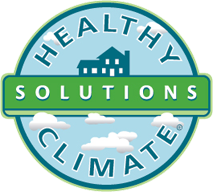 When you sell Healthy Climate Solutions™, you're selling equipment proven to attack Indoor Air Quality issues.
Healthy Climate Solutions, like high-efficiency air cleaners and HEPA filtration systems, are designed to capture even the smallest of allergy-aggravating particles. There are also many innovative options to control germs, odors, chemicals and humidity levels. Most products are compatible with any heating and cooling equipment.
Purification
The PureAir™ air purification system is the only single IAQ system that attacks all three classes of indoor contaminants, including particles, germs and odors/chemical vapors.
Filtration
The Carbon Clean 16 combines industry-leading MERV 16 filtration with activated, carbon-coated fibers to remove harmful particles from your customers' homes. Healthy Climate HEPA solutions use hospital-grade filtration that's equivalent to MERV 16 and higher.
Germicidal Lights
The UV-2000 is equipped with the highest-intensity lamp on the market. All models are designed for easy installation inside HVAC ducts.
Ventilation
Healthy Climate ventilation control systems, heat-recovery ventilators and energy-recovery ventilators integrate seamlessly with HVAC systems to freshen indoor air.
Humidifiers
Healthy Climate Power Humidifiers and Bypass Humidifiers not only make winter temperatures feel warmer, they also improve health and protect home furnishings.
Dehumidifiers
Healthy Climate Whole-Home Dehumidifiers work with Lennox® and other brands of HVAC equipment to remove excess moisture from the air.