Trust. Innovation. Quality.
We are Lennox
Lennox is built on a legacy of innovative firsts, from the introduction of the riveted-steel furnace in 1895 to some of the most efficient air conditioners available today. Over the years, Lennox has set the standard for home comfort, and we continue to push the standard forward with a lineup of more than 60 leading-edge products and a network of more than 6,000 full-service dealers.
The best people, the best service
Innovation isn't just a set of technologies that we build into our products. It's a mindset that's shared by all of our people, in the field and in our corporate office. Every day, in many thoughtful and resourceful ways, our people do their absolute best to provide our dealer partners with the best service.
The best people in the field. Skilled professionals know your business, Lennox Territory Managers and Field Technical Consultants are ready to back you with a powerful combination of equipment, supplies and product support.
The best people in the in the corporate office. Our corporate team and Customer Service Specialists are focused on your strategic business needs with lead-generating advertising and marketing programs, state-of-the-art heating, cooling and indoor air quality products, industry-leading training and technical support, and world-class distribution and logistical capabilities.
---
5 Misconceptions about Lennox®
Myth
Lennox® is hard to do business with because they only work with very large contractors.
Fact
Lennox® is always looking for great new contractor partners of all sizes. We've been growing our distribution model the past few years to make it even easier to serve more customers. Lennox PartsPlus® stores are being added every year to better serve contractors who need distribution facilities nearby to be successful. More than a few years ago, our distribution model restricted our reach because of a need to prioritize limited resources. Today, our competitors will tell you, Lennox wants your business, and it's true.
---
Myth
Lennox® wants to tell contractors how to run their business. That's not for me.
Fact
We do not and will not tell you how to run your business, but we will enthusiastically offer encouragement, coaching and resources to help you win. Don't let any competitor tell you otherwise. Lennox® is committed to providing world class training and other resources to support our customers and your personal goals to become more successful and profitable. Check out our training website and find out for yourself.
---
Myth
Older Lennox® products are hard to work on because of exclusive repair parts and non-standard wiring.
Fact
That was once true - but not anymore. About 20 years ago, Lennox product development teams made a commitment to building only products that use standard industry wiring diagrams, more universal replacement parts, and industry standard sizing protocols. And what we've built since then is a product line that many believe is the most technician friendly product lineup in the industry. If you find one of those old units, take it as a great opportunity for a product replacement sale, and give Lennox a call to try us out, we're confident you'll be impressed.
---
Myth
Lennox® is difficult to do business with because they have a small distribution footprint.
Fact
Over the past 6 years, Lennox® has added more facilities and more square feet of inventory space than at any time in our history. We have been growing our distribution footprint and market-by-market product and supplies availability as fast as anyone in the HVAC marketplace. We now have nine large regional distribution centers and over 200+ contractor facing distribution facilities. We call them Lennox PartsPlus® stores. Stop by and check us out.
---
Myth
When I need help, Lennox® support can be difficult to reach, it takes too long on hold. Lennox doesn't care about making it easy for me to connect.
Fact
It has never been easier to do business with and communicate with Lennox. It's true that Lennox customer service is designed to align our support resources to the service of our Dealers first. We prioritize our systems to respond quickest to our repeat and regular customers. But that's not the whole story. Our e-commerce platform (LennoxPROs.com) and mobile app provide multiple venues to find technical information, repair parts and to place orders. And they're available to you 24/7. With 200+ Lennox PartsPlus stores and national customer service teams in Texas and Canada, we deliver our customers an exceptional customer experience.
---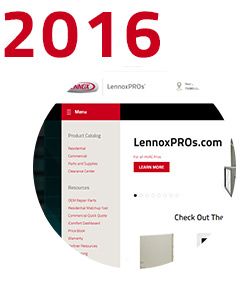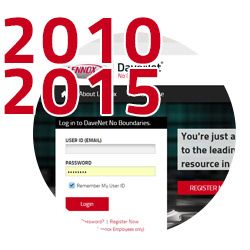 | | |
| --- | --- |
| 2016 | Launched ecommerce catalog and improved ordering experience. DaveNet Becomes LennoxPROs.com. |
| 2015 | Released the bar code scanner and reached 50,000 registered users. |
| 2014 | Lennox launches B2B mobile applications with the launch of DaveNet No Boundaries. Launch Marketo email marketing system. |
| 2010 | The ProductZone goes live and provides a simple way to locate replacement parts. |
| 2009 | The Custom Ad Design Shop now offers co-branded advertising creative. Lennox offers first-ever live online training on DaveNet. Lennox is first to introduce an air handler that leads the way in quiet, energy-efficient performance. Lennox PartsPlus retail locations are launched in the USA and Canada. Lennox introduces a heat pump with Dual-Fuel technology: intelligently switching from gas to electric heat. Lennox launches SunSource® solar, the industry's first integrated solar assisted residential central heat-pump and air conditioner. |
| 2008 | eDocument Delivery is now offer to dealers to receive their statements and invoices online. The Commercial QuickQuote is now offered on DaveNet and allows dealers to create quotes for commercial jobs with 1-3 units. |
| 2007 | Closing Proposal Tool allows dealers to quickly create professional proposal for customers. Dealers can also manage their account with Lennox via Invoice Aging Report. The Warranty Status Report provides real-time status as well as claim information. |
| 2006 | DaveNet receive a major update to a web portal, and now dealers have access to user roles and permissions. Ad MAKER is replace by the Custom Ad Design Shop. Lennox introduces it's innovative line of whole-home humidity control systems. |
| 2005 | Media Vault goes online for immediate access to logos, photos and literature. The eCatalog is introduced and contains side-by-side comparison of specs and all supporting product information. First to introduce an air conditioner with an efficiency rating of 20+ SEER, the HSX21. |
| 2003-2004 | Consumer Rebates & Salesperson Spiffs process goes online. WebLEX is retired and Lennox Dealer Website is debuted. Lennox is named an ENERGY STAR® partner of the year. |
| 2003 | Event Registration is added to DaveNet for incentive and Dealer meetings. WebOrder get an upgrade and can search the inventory of three alternate warehouses. DealerConnection goes live and infoVault is added to look up technical documents. 10% of orders came from online. Lennox is first to introduce an air conditioner with an efficiency rating of 19.20 SEER, the HSX19. |
| 2002 | First online training available on DaveNet: Basic Understanding and Properties in R-410a. Launched WebWarranty tool to look up products based on the serial number. Lennox introduces PureAir™ the first indoor air quality system to attack all classes of indoor air contaminates. PureAir cleans the air in the home better than any other single system you can buy. |
| 2001 | Lennox HVAC Pros are able to access DaveNet for free. Order Wizard is replaced with WebOrder. |
| 2000 | 1% of Lennox orders placed online. |
| 1999 | A Lennox dealer places the first online order through the DaveNet™ e-commerce system. DaveNet launched WebLEX to help HVAC PROs create professional websites. Lennox International becomes a public company. |
| 1998 | DaveNet debut as a software package on CD for a subscription rate of $699. Lennox begins to establish a full-service retail distribution network. |
| 1995 | Lennox Global Ltd. (LGL) is established to expand the company's presence worldwide. |
| 1994 | First to manufacture a combination residential space/water heating system. |
| 1988 | First to manufacture a split-system heat pump with scroll-compressor technology. |
| 1988 | Lennox International expands and acquires Armstrong Air Conditioning, Inc. |
| 1988 | Lennox makes products available to small, local dealers. |
| 1984 | Lennox International, Inc. is established as the parent company for Lennox Industries, Inc. |
| 1984 | First air conditioner to achieve an efficiency rating of 15.00 SEER. |
| 1982 | First to develop and manufacture a high-efficiency gas furnace. |
| 1978 | First to manufacture solar-powered air conditioners. |
| 1978 | First to manufacture electronically controlled, variable speed air handlers. |
| 1978 | World headquarters is relocated from Marshalltown, IA to Dallas, TX. |
| 1973 | The development of a two-speed hermetic compressor increases air-conditioning efficiency. |
| 1973 | Lennox squires Heatcraft Inc., manufacturer of heating elements and special components. |
| 1965 | Lennox introduces packaged multi-zone units for commercial heating and cooling. |
| 1964 | Lennox reduces noise problems in gas furnaces with the Duracurve heat exchanger. |
| 1962 | Lennox International opens in England and Germany. |