Lennox iComfort S30 Smart Thermostat, Programmable Wi-Fi, Color Touchscreen, Communicates with Smart Hub
Lennox iComfort S30 Smart Thermostat, Programmable Wi-Fi, Color Touchscreen, Communicates with Smart Hub
Cat # : 12U67 | Model/Part #: iComfort S30

Your installations went faster and smoother. With automatic system setup, iComfort S30 significantly reduces installation time. Plus with the iComfort Mobile Setup App technicians can adjust settings and run tests all from their phone, eliminating the time consuming trips of walking back and forth between the thermostat and indoor/outdoor unit.
You'll be aware of issues before they happen. With the proactive monitoring offered by iComfort thermostats, you'll know something is wrong before the homeowner does.
You can address problems remotely. With the iComfort S30 thermostat, you won't just identify the problem, you may even be able to fix it remotely. If the problem does require a truck roll, you can proactively schedule a service call with the homeowner.
You'll always have the right resources for the job. Since you'll know what's wrong, you'll already know what tools, techs and supplies you'll need to bring along. That translates to faster service calls for you.
| | |
| --- | --- |
| Brand | Lennox |
| Catalog Number | 12U67 |
| Model/Part Number | iComfort S30 |
| Minimum Order Quantity | 0.0 |
| Base Unit of Measure | Unit(S) |
Product Depth
1 IN
Product Height
5 IN
Product Width
7.5 IN
Gross Weight
3.5 LB
Length
11.25 IN
Family
iComfort
New Catalog #'s
12U67 was replaced by
Online HVAC Training
Online courses built to provide Comfort Advisors, Dealers and Technicians with product overview on technical benefits, specifications, and features for the iComfort S30 system.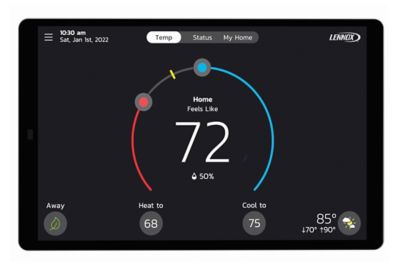 ---
Take a second and check out our HVAC training below!
S30 Allergen Defender - Online HVAC Training by HVAC Learning Solutions
S30 Dealer Report - Online HVAC Traning by HVAC Learning Solutions