Lennox iComfort S30 Ultra Smart Programmable Thermostat, 7" HD Color Display, Geo-Fencing, Remote Access, Alexa and Apple HomeKit Compatible
Lennox iComfort S30 Ultra Smart Programmable Thermostat, 7" HD Color Display, Geo-Fencing, Remote Access, Alexa and Apple HomeKit Compatible
Cat # : 12U67 |Model/Part #:iComfort S30

Your installations went faster and smoother. With automatic system setup, iComfort S30 significantly reduces installation time. Plus with the iComfort Mobile Setup App technicians can adjust settings and run tests all from their phone, eliminating the time consuming trips of walking back and forth between the thermostat and indoor/outdoor unit.
You'll be aware of issues before they happen. With the proactive monitoring offered by iComfort thermostats, you'll know something is wrong before the homeowner does.
You can address problems remotely. With the iComfort S30 thermostat, you won't just identify the problem, you may even be able to fix it remotely. If the problem does require a truck roll, you can proactively schedule a service call with the homeowner.
You'll always have the right resources for the job. Since you'll know what's wrong, you'll already know what tools, techs and supplies you'll need to bring along. That translates to faster service calls for you.
| | |
| --- | --- |
| Brand | Lennox |
| Catalog Number | 12U67 |
| Model/Part Number | iComfort S30 |
| Minimum Order Quantity | 0.0 |
| Base Unit of Measure | Unit(S) |
Product Depth
1 IN
Product Height
5 IN
Product Width
7.5 IN
Type
Universal
Gross Weight
3.5 LB
Family
iComfort
Series
S30
Changeover
Auto
Humidification Control
Yes
Lennox Brand Comparison
12U67
Program Type
7 Day
Communicates with Lennox
Yes
Stages Quantity
3 Heat/2 Cool
Intelligent Recovery
Yes
WiFi Remote Access
Yes
New Catalog #'s
12U67 was replaced by
Online HVAC Training
Online courses built to provide Comfort Advisors, Dealers and Technicians with product overview on technical benefits, specifications, and features for the iComfort S30 system.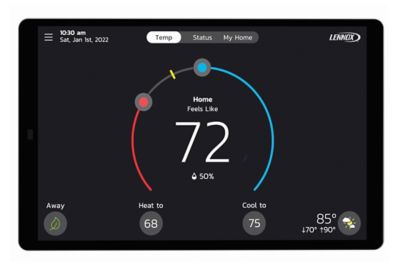 ---
Take a second and check out our HVAC training below!
S30 Allergen Defender - Online HVAC Training by HVAC Learning Solutions
S30 Dealer Report - Online HVAC Traning by HVAC Learning Solutions
---
iComfort S30/ E30 Virtual Trainer
The virtual trainer for is now available to make training and demonstrating the iComfort S30 and E30 systems easier. Dealers and technicians can use the virtual environment to get up to speed quickly on the techniques required for installation, programming and troubleshooting the S30 and E30. Comfort Advisors can also download the trainer to demonstrate the functionality available in the consumer portal and apps.
Please log in to see this content
Download and install the iComfort Virtual Trainer on your PC. Detailed instructions for installation/setup are available here.
Register your iComfort Trainer to get a user ID and password for remote access and to connect the iComfort Trainer to your dealer account.
Download the iComfort Trainer consumer app and access the iComfort Trainer consumer portal to remotely control your iComfort Trainer.
For operation help, download the troubleshooting guide.