Lennox iComfort E30 Universal Smart Programmable Thermostat, 7" HD Color Display
Lennox iComfort E30 Universal Smart Programmable Thermostat, 7" HD Color Display
Cat # : 15S63 |Model/Part # : E30

The iComfort E30 Wi-Fi enabled smart thermostat is a universal thermostat that works with non-iComfort-enabled and non-Lennox products. Introducing four new features to the iComfort E30 that help control a home's environment. The iComfort E30 now pairs with any Google Assistant device, a perfect addition to the already compatible Alexa and Siri devices. If This, Then That (IFTTT) can help program the iComfort thermostat around a homeowner's schedule. It brings home automation apps together for the ultimate comfort experience. To display a more personalized custom backdrop, the new picture upload capability allows a personal photo to be uploaded via a smartphone and the iComfort App. The iComfort E30 universal smart thermostat outperforms the rest by monitoring system operation in real time, with ventilation control the dealer gets alerted when it's time for a filter change or repair, making sure the system always performs at its best and eliminating the need for a separate ventilation control panel.
Feels Like™ Setting: Similar to the "Feels Like" temperature in a weather report, this takes into account temperature and humidity, making your home feel exactly like you want.
Allergen Defender: Monitors the air quality and pollen levels in your local zip or postal code and automatically turns the system fan on as needed to clean your home's air.
Perfect Temp: Allows you to set the ideal temperature. The system then automatically adjusts heating and cooling to maintain that setting.
Smart Away™ Mode: Uses the location services in your smartphone to detect when you're leaving, and automatically changes the temperature to a more energy-efficient setting.
Schedule IQ™ Technology: Allows you to program your thermostat once. Whenever there's a change in your routine, the thermostat adapts heating and cooling to match.
Performance Reports: Provides you with historical data on your system's operation and performance. It tracks temperature ranges, how long the system runs each day and more. Daily and hourly reports are available via the homeowner portal site, myicomfort.com. Monthly reports are emailed to you directly.
Alexa Integration: The iComfort E30 smart thermostat is an Amazon® Alexa-enabled, smart-home-compatible thermostat. It works with Amazon Echo, Echo Dot and Tap devices allowing the homeowner to ask Alexa to adjust the temperature.
Weather-On-Demand: Live up-to-date weather data and seven-day forecasts.
Emailed Alerts and Reminders: Notifies you and your dealer of any service or maintenance needs.
Peace-Of-Mind Protection: Five years in residential installations and one year in non-residential installations. Refer to Lennox Equipment Limited Warranty certificate included with unit for specific details.
Consumer Comparison

| | | |
| --- | --- | --- |
| | S30 | E30 |
| Equipment | iComfort Enable | Universal |
| Comfort | Precision Comfort | Perfect Temperature |
| Energy Savings | % Demand Report | Run Time Report |
| Indoor Air Quality | Allergen Defender | Allergen Defender |
| Remote Access | iOS & Andoroid App | iOS & Android App |
| | All thermostat Functions | All thermostat Functions |
| Diagnostics | Smart Alert | Comfort Alert |
Dealer Comparison

| | | |
| --- | --- | --- |
| | S30 | E30 |
| Equipment Compatibility | iComfort Enabled | Universal |
| Ease of Installation | 4-Wire | 4-Wire |
| | Auto equipment set up | Manual equipment set up |
| | Performance & Installation Report | Installation Report |
| Ease of Service | Remote access to thermostat & equipment | Remote access to thermostat |
| | Emailed Alerts, Alarms & Notifications | Emailed Alarms & Notifications |
| | |
| --- | --- |
| Brand | Lennox |
| Catalog Number | 15S63 |
| Model/Part Number | E30 |
| Minimum Order Quantity | 0.0 |
| Base Unit of Measure | Unit(S) |
Product Depth
1 IN
Product Height
7-1/2 IN
Product Width
5 IN
Type
Universal
Gross Weight
4.4 LB
Family
iComfort
Series
E30
Changeover
Auto
Humidification Control
Yes
Lennox Brand Comparison
15S63
Program Type
7 Day
Communicates with Lennox
No
Stages Quantity
3 Heat/2 Cool
Intelligent Recovery
Yes
WiFi Remote Access
Yes
New Catalog #'s
15S63 was replaced by
Online HVAC Training for the Lennox iComfort E30 Smart Thermostat
Online courses built to provide Comfort Advisors, Dealers and Technicians with product overview on technical benefits, specifications, and features for the iComfort S30 system.
HVAC training built for the HVAC Professional!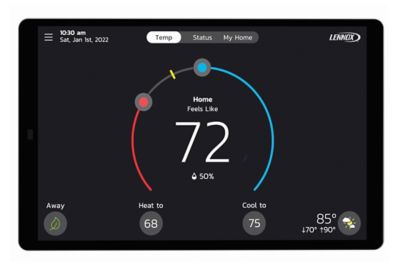 Sales Training
This course is designed to provide Comfort Advisors and Dealers with a product overview of specifications, features and benefits of using the iComfort E30 system.

Sales Webinar
The iComfort E30 sales training webinar will teach you why you should be offering our newest smart thermostat in our iComfort line on every sales call to your customers.

Technical Training Guide
In this series of courses we will examine the installation process and introduce various commissioning procedures. We will cover all functions and controls to give a comprehensive understanding of the new thermostat system. An entirely new feature will also be introduced, Amazon Alexa compatibility.

Technical Webinar
This webinar will teach you how to use the iComfort E30 smart thermostat. We will review installation and service for dealers, benefits the thermostat can provide, reports the thermostat can generate to assist with installation and performance, and how it works with our iComfort dashboard on LennoxPROs.com

Installation Process Video

Customer Walk Through