New 2 – 10 ton high-efficiency heat pumps with dual-fuel option.
Landmark®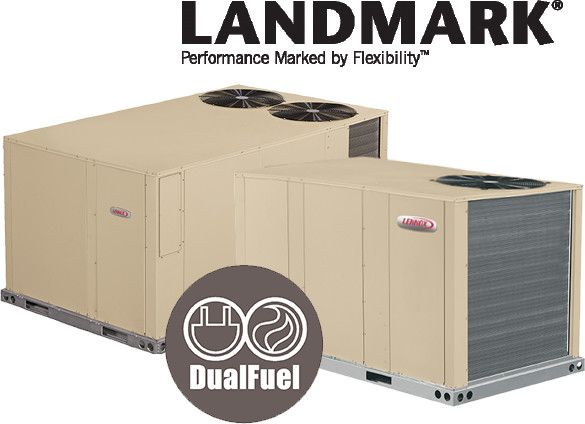 The Landmark® rooftop line now gives you the flexibility to choose from dual-fuel and traditional electric resistance units, in just the right size for your application. The new 2 – 10 ton high-efficiency heat pumps configure to suit a variety of applications, offering efficiencies of up to 16.5 SEER, 14.8 IEER and 13.0 EER. Dual-fuel and electric resistance heating options are offered, with efficiencies of up to 8.5 HSPF and 3.9 COP.

Product flexibility
Lennox® Commercial distribution facilities have Landmark heat pump units ready for immediate shipment.
Same or next-day delivery* is available for customers within 100 miles of a stocking location in North America.
Plus, with more than 100 field-installed options available, unit can be configured to fit the application.
---

High-Efficiency & Dual-Fuel Option
A new dual-fuel system is available that automatically switches between electric and gas heating, based on whichever is most energy efficient for the weather.
This option helps buildings save energy without compromising comfort.
---

Government Compliance & Rebates
Landmark units with multi-stage air volume (MSAV) technology deliver fan power savings of up to 61% and are up to 27% more efficient** than standard systems.
These units exceed ASHRAE 90.1 2013 standards and are qualified up to CEE Tier II utility rebates and energy incentives.
Availability
Quoting: Ready to quote within CRM
Stockables availability: Available at distribution centers.
| Description | Ton | Catalog Number |
| --- | --- | --- |
| KHB024H4EN P/208 - 230 Volt/1 Ph | 2 | BA853 |
| KHB036H4EN Y/208 - 230 Volt/3 Ph | 3 | BB527 |
| KHB036H4TN G/460 Volt/3 Ph | 3 | BB526 |
| KHB048H4TN G/460 Volt/3 Ph | 4 | BB523 |
| KHB048H4TN Y/208 - 230 Volt/3 Ph | 4 | BB390 |
| KHB060H4TN Y/208 - 230 Volt/3 Ph | 5 | BB392 |
| KHB060H4TN G/460 Volt/3 Ph | 5 | BB524 |
| KHB092H4BN Y/208 - 230 Volt/3 Ph | 7.5 | AZ936 |
| KHB092H4BN G/460 Volt/3 Ph | 7.5 | BB423 |
| KHB122H4EN Y/230 - 3 | 10 | BA118 |
| KHB122H4EN G/460 - 3 | 10 | BC091 |
| KDB048H4TB G/460 Volt/3 Ph | 4 | BB530 |
| KDB060H4TB Y/208 - 230 Volt/3 Ph | 5 | BB529 |
| KDB092H4BS Y/208 - 230 Volt/3 Ph | 7.5 | BB378 |
Sales & Marketing Materials
Preliminary product specification (EHBs) available now on PIRL
Product overview video/presentation – on C4C
Final product specifications (EHBs) – on PIRL
Installation manuals – on PIRL
---