Now you're ready to ensure everything runs smoothly
The Lennox Installation Report validated that the system was perfectly installed. The iComfort thermostat has been set up for monitoring. Now it's time to provide an excellent level of service that your customers are expecting. That just got a whole lot easier with the newly redesigned Service Dashboard.
Where excellence meets efficiency
To your customers, excellence means service without disruption. Everyone knows equipment eventually goes out of tune and you'll inevitably need to either replace parts or recalibrate the equipment.
With detailed remote diagnostics, you'll save time and money by already knowing the issues at hand, having your techs armed with the parts needed before the truck rolls, and reducing the time spent at your customer's home. That's providing excellent customer service.
The Service Dashboard removes the guesswork so you can:
Provide remote diagnostics to system issues.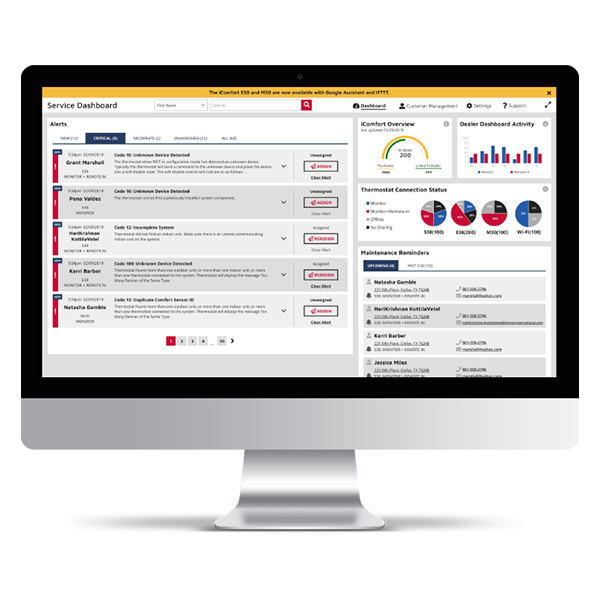 Sit back and let the
dashboard do the work
Remote monitoring doesn't have to be painful. With the redesigned Service Dashboard, you can receive alerts via email when system errors occur so that you can focus on your business. You now have remote diagnostic technologies, product schematics, technical product specs, warranty information, and Error Code Lookup integration — easily accessible on your mobile device, tablet, or desktop computer. An unmatched level of detail for each homeowner you service.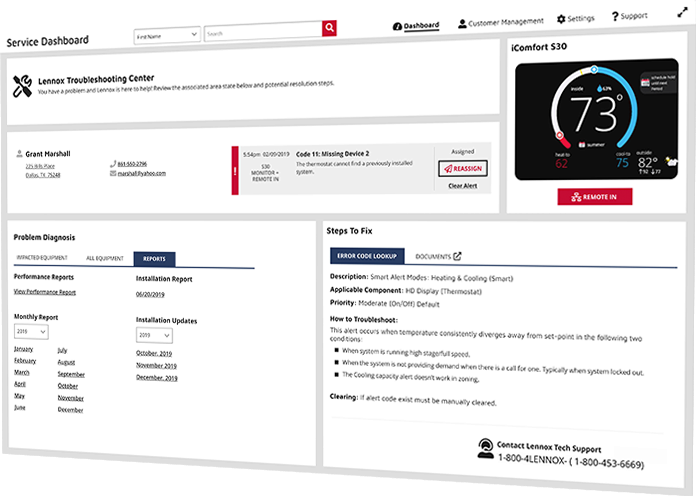 Everything you need from customer details to customer management:

Discover problems before they happen. The system sends you alerts so you can be aware of a problem or and decide what you need to do.

Help homeowners extend the life of their system and decrease homeowner system downtime.

Keep homeowners Indoor Air Quality (IAQ) healthy by regularly replacing air filters.

Plan and prioritize your service technician man-hours by using the filter to customize your search by maintenance reminders, alert types or zip code.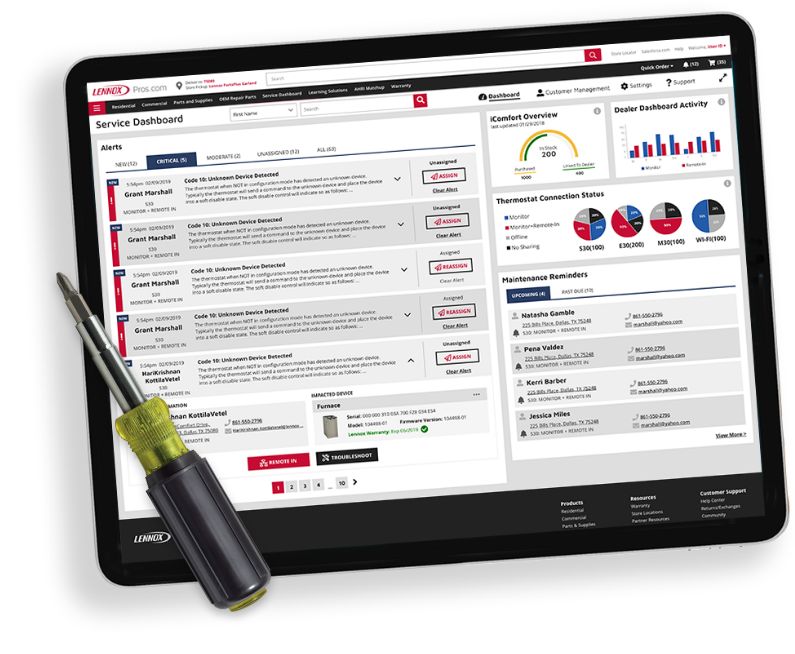 Customer retention starts with excellent customer service
Your customers are busy. The newly redesigned Service Dashboard helps you develop long-term relationships by being readily accessible when customers need you. Not only are you able to provide rapid response times to equipment issues, you're able to deliver seamless service knowing ahead of time the problem, solution, and parts and supplies you're going to need without having to inconvenience your customer a second time.
Start with perfect air.
Stay in tune with excellent service.
Check out the new Service Dashboard
NOTE: To help improve your operations, we've changed the name of
iComfort Dashboard to Service Dashboard so you can focus on delivering
superior customer service.