Lennox Quantum Coil EL16XC1
The new EL16XC1 air conditioner
Powered by the Lennox® Quantum™ Coil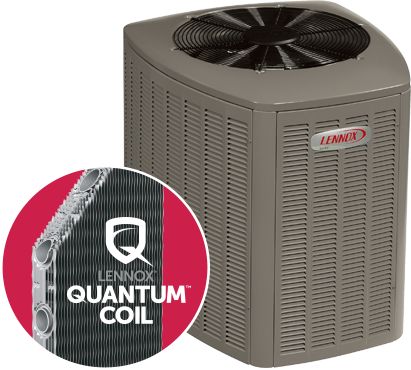 Available now: a new way to deliver reliable and energy-efficient cooling.
The Elite® Series EL16XC1 is a high-performing, quiet and dependable air conditioner, offering energy-saving and money-saving efficiencies.

High Performance
With efficiencies of up to 17 SEER, the EL16XC1 may qualify homeowners for local rebates or federal tax credits
The EL16XC1 uses up to 41%* less energy than a standard air conditioner
ENERGY STAR® certified
The corrosion resistant, aluminum alloy Lennox® Quantum™ coil provides years of trouble-free cooling, even in the harshest environments
*Comparing 10 SEER vs. 17 SEER Systems
---

Quiet Cooling
Quietly efficient, the EL16XC1 operates at sound levels as low as 71dB
Special compressor sound dampening system helps ensure smooth, quiet operation
---

Installer-Friendly
SmartHinge™ louver design allows fast access to interior components for quick and easy servicing
Easy to maintain, coils are cleansed using water. No chemicals required
EL16XC1 Training

These course modules are designed to explain the features of the components for the Lennox® Elite® Series EL16XC1 and describe procedures for maintenance and service technicians.
Available Now
The all-new EL16XC1 air conditioners are available now.
Details about pricing will follow separately.
EL16XC1 replaces the XC14, which is now discontinued.
Please continue selling current models until inventory is depleted.
| Description | Model | Catalog Number |
| --- | --- | --- |
| EL16XC1-018 Condenser / 1.5-ton / 230V | EL16XC1-018 | 13H57 |
| EL16XC1-024 Condenser / 2-ton / 230V | EL16XC1-024 | 13H58 |
| EL16XC1-030 Condenser / 2.5-ton / 230V | EL16XC1-030 | 13H77 |
| EL16XC1-036 Consenser / 3-ton / 230V | EL16XC1-036 | 15D14 |
| EL16XC1-041 Condenser / 3.5-ton / 230V | EL16XC1-041 | 13H84 |
| EL16XC1-042 Condenser / 3.5-ton / 230V | EL16XC1-042 | 13H81 |
| EL16XC1-047 Condenser / 4-ton / 230V | EL16XC1-047 | 13H91 |
| EL16XC1-048 Condenser / 4-ton / 230V | EL16XC1-048 | 13H82 |
| EL16XC1-060 Condenser / 5-ton / 230V | EL16XC1-060 | 13H83 |
Model (Regional Standards)
| Description | Model | Catalog Number |
| --- | --- | --- |
| EL16XC1S036 Condenser / 3-ton / 230V | EL16XC1S036 | 15D15 |