Mobile FAQs
Need additional help with mobile? Give our helpdesk a call at 1-877-570-0123.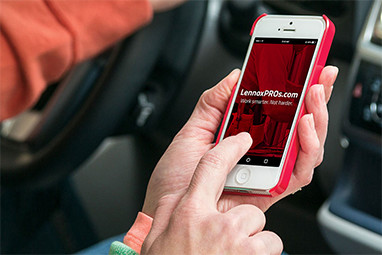 + How do I access LennoxPros mobile?
Simply go to "m.lennoxpros.com" in your internet browser on your mobile device.​
+ How Do I Download the LennoxPros App?
+ How do I order on LennoxPros mobile?​
From your smart device, access the LennoxPros App or enter "m.lennoxpros.com" in your mobile browser. Login to your LennoxPros account, and click the "Cart" button to be taken to your active cart. Just like the desktop version, you can add items to your cart with the "Quick Order" feature by entering the catalog number and pressing the "Add to Cart" button. Use the search feature to search for products by model number or keyword if you don't know the catalog number you're searching for. You can also view your Saved Carts within the "Saved Carts" tab. Just hit the "Checkout" button when you're ready to place an order.
+ What devices is LennoxPros mobile compatible with?
LennoxPros mobile is compatible with the browser on any mobile device, including Windows and Blackberry smart phones and tablets. The LennoxPros app is available for any iOS or Android mobile device, including Apple smart phones and tablets.
+ Is there a mobile version of the AHRI tool?
Yes, it is called the Residential Matchup Tool and can be found on the home screen of LennoxPros mobile.
+ Do I need to create a new account for LennoxPros mobile?
Once you are registered on LennoxPros , you will use the same login credentials on the desktop site and the mobile site.
+ Will I need WiFi to access LennoxPros mobile?
You do not need WiFi to access LennoxPros mobile. Like other mobile sites, you can access them using data on your smartphone or tablet data plan.