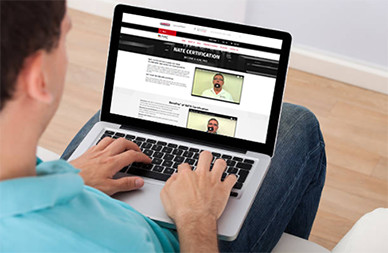 + Can your courses be played on iPads?
Good news! Yes, many of our courses are compatible with iPads (as well as other iOS devices) and Android mobile devices. 77 of our HVAC Technical courses are mobile courses -- you will find them under the "Mobile Courses" category when you browse for training, and you can spot them at any time in the catalog because they all have (m) after the title.​
But to play the mobile courses on your iPad or other mobile device, you must download the Cornerstone mobile app. You will also need to register for mobile classes on your desktop or laptop *before* opening the app to play the courses, because you cannot browse the catalog on the app -- you can only launch training that is already on your transcript.
+ How do I print off class completion certificates?
For any information about your training history, always go to your transcript. To print off certificates, go to your transcript and select the "Completed" tab. Then click on the title of the completed class. This will give you details on the completed training, and you will see a link for "Print Certificate." If the class is a technical one good for NATE CEUs, all you have to do is send the certificate(s) in to NATE.
+ I am supposed to be a Learning Center Admin, but I just logged in and I don't see the ADMIN tab. Is something wrong?
If you are a LennoxPros administrator, you will be a Learning Center Admin, but it takes 24 hours after the first time you sign into the Learning Center for the Admin permissions to show up.